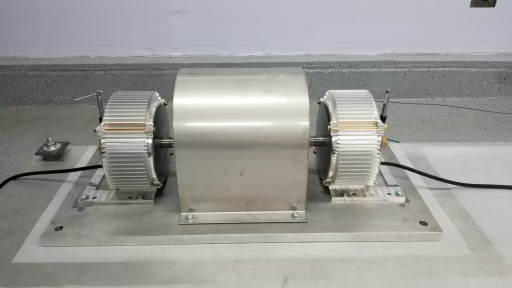 History
When we started Revolution Electric Motor Company in 2004, we made the realization that the future for the highest performance electric machines was likely to be in air core technology. We set off and focused our efforts on developing air core technologies for both the highest performance (efficiency and power density) and for unique new production methods to enable low cost manufacturing. With our belief, we dedicated ourselves to developing the best core electric motors.
Our first axial gap air core machine, a 40 HP 1200 RPM motor, achieved an overall efficiency 98.5% at full speed and load in 2004. Testing was conducted at Oregon State University and The University of Nevada at Reno. While it was a technical success, we recognize that achieving a technical success is not necessarily synonymous with a commercial success.
Our Mission
Our directive is to create the lightest weight, highest efficiency and lowest cost air core motors while maintaining our ethos that less is more.
Innovation Orientated
Our latest motor, a 5HP 3600 RPM machine, is a culmination of years of experience and has achieved 94.5% efficiency, weighs less than 10 kg and requires significantly less material than compared to premium efficiency induction machines. While we are proud of our achievements, we are always curious to know how we can make it better. Because of this, our next motor will hit 95.5% without changing material requirements or operate outside of the NEMA standard frame size.
Additionally, we have improved upon drive technologies. Through hard work and dedication, we have now built our own patented drive that can attain switching frequencies of 1 MHz while maintaining efficiency.
Our Principles
We are driven by the same principles that that led us to our successes and failures over the past 20 years. As we expand to commercialize our technology we are looking to revolutionize the fan, pump, power generation and aviation industries through partnerships.
If you would like to learn more, please contact us.
– The Revolution Team
9:00am – 6:00pm Pacific Time